Articles / The Church of Jesus Christ
We Are Soldiers in the Lord's Army
The born again Christian (John 3:3)
1 Colossians 1:
13 Who hath delivered us from the power of darkness, and hath translated us into the kingdom of his dear Son:
14 In whom we have redemption through his blood, even the forgiveness of sins: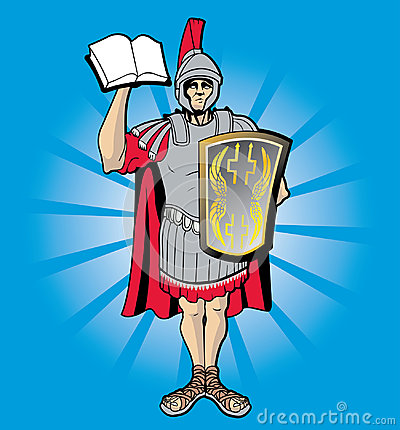 We are soldiers in the Lord's Army.
2 Timothy 2:
4 No man that warreth entangleth himself with the affairs of this life; that he may please him who hath chosen him to be a soldier.
We don't get involved with politics, social clubs or anything that would take us away from our mission, the Gospel of Jesus Christ, helping our brothers and sisters in Christ and preaching to and helping lost souls, held captive by the enemy.

So who do we fight? Jesus said to love even our enemies (Luke 6:27,35).

Soldiers are warriors. They are violent people by training and by authority. But how do you fight violently in love? The answer to that is to know who our enemies are:
Ephesians 6:
12 For we wrestle not against flesh and blood, but against principalities, against powers, against the rulers of the darkness of this world, against spiritual wickedness in high places.
Our fight then is against the devil and his angels who rule over the kingdom of darkness in the world. We are likened to wrestlers which means we battle our opponents in the spirit, in our prayer closets and in the unseen world around us. Wrestling is a close in contact sport. It involves gripping your opponent and throwing him down and holding him down until he gives up. It also involves staying away from his grip and loosening yourself from his grip.

What is our equipment in this battle?
13 Wherefore take unto you the whole armour of God, that ye may be able to withstand in the evil day, and having done all, to stand.
14 Stand therefore, having your loins girt about with truth, and having on the breastplate of righteousness;
15 And your feet shod with the preparation of the gospel of peace;
16 Above all, taking the shield of faith, wherewith ye shall be able to quench all the fiery darts of the wicked.
17 And take the helmet of salvation, and the sword of the Spirit, which is the word of God:
18 Praying always with all prayer and supplication in the Spirit, and watching thereunto with all perseverance and supplication for all saints;
We suit up in our armour and watch out for the battles to come. The enemy is also capable of sending "fiery darts" towards us in which we have the "shield of faith" to block them. These darts must be everything the enemy can muster to destroy our faith in God and His Holy Word.
How do we keep our faith and how to we maintain warrior like faith?
Romans 10:
17 So then faith cometh by hearing, and hearing by the word of God.
Now, we are suited up in our armour, we have the sword of the Spirit, the Bible, and we are always reading our Bibles, praying and interceding to God on behalf of our brothers and sisters in Christ Jesus.
More about our weapons:
2 Corinthians 10:
3 For though we walk in the flesh, we do not war after the flesh:
4 (For the weapons of our warfare are not carnal, but mighty through God to the pulling down of strong holds;)
5 Casting down imaginations, and every high thing that exalteth itself against the knowledge of God, and bringing into captivity every thought to the obedience of Christ;
6 And having in a readiness to revenge all disobedience, when your obedience is fulfilled.
I'm talking to Christians here. Born again, Blood Washed, Spirit filled Christians (not Americans, not churchmen, not children).

The Word of God says our weapons in this warfare against the devil and his angels (not people), are NOT carnal. They are not AR15's, Colt 45's, Taurus 357's, Smith and Wesson 22's. Not shotguns, pistols or bows and arrows. We love our human enemies and pray for them and war against our unseen demonic enemies that are out to destroy the human race.
Our weapons are mighty, through God. Prayer and the authority of the Word of God, in the mighty Name of Jesus:
Mark 16:
17 And these signs shall follow them that believe; In my name shall they cast out devils; they shall speak with new tongues;
18 They shall take up serpents; and if they drink any deadly thing, it shall not hurt them; they shall lay hands on the sick, and they shall recover.